Thank you for considering us for your automotive needs. We sell the exciting new Jeep, RAM, Chrysler and Dodge models, as well as a comprehensive array of used cars, trucks, crossovers and SUVs. Our courteous, experienced and professional staff is waiting to assist you.
Browse the Sawyer Motors new and used car inventory online from anywhere in the greater Hudson NY and Albany area, submit any applicable forms, then come in for a test drive and talk with us about our fantastic car loan and lease options. You can also request more information about any of our new or used vehicles, auto parts, or auto repair and service, by using our contact form or by calling the number above.
Use our Car Finder to Find the Chrysler,Dodge, RAM or Jeep You Want
The Sawyer Motors Car Finder form is a convenient way to have us search for the vehicle you want. Submit it right now, and we will contact you when we find the vehicle you have described! Our new and used car dealership is located at 166 Ulster Avenue. We have served customers from Manorville, Kingston NY, Hudson NY, Rhinebeck, and all over the greater Saugerties, NY, area.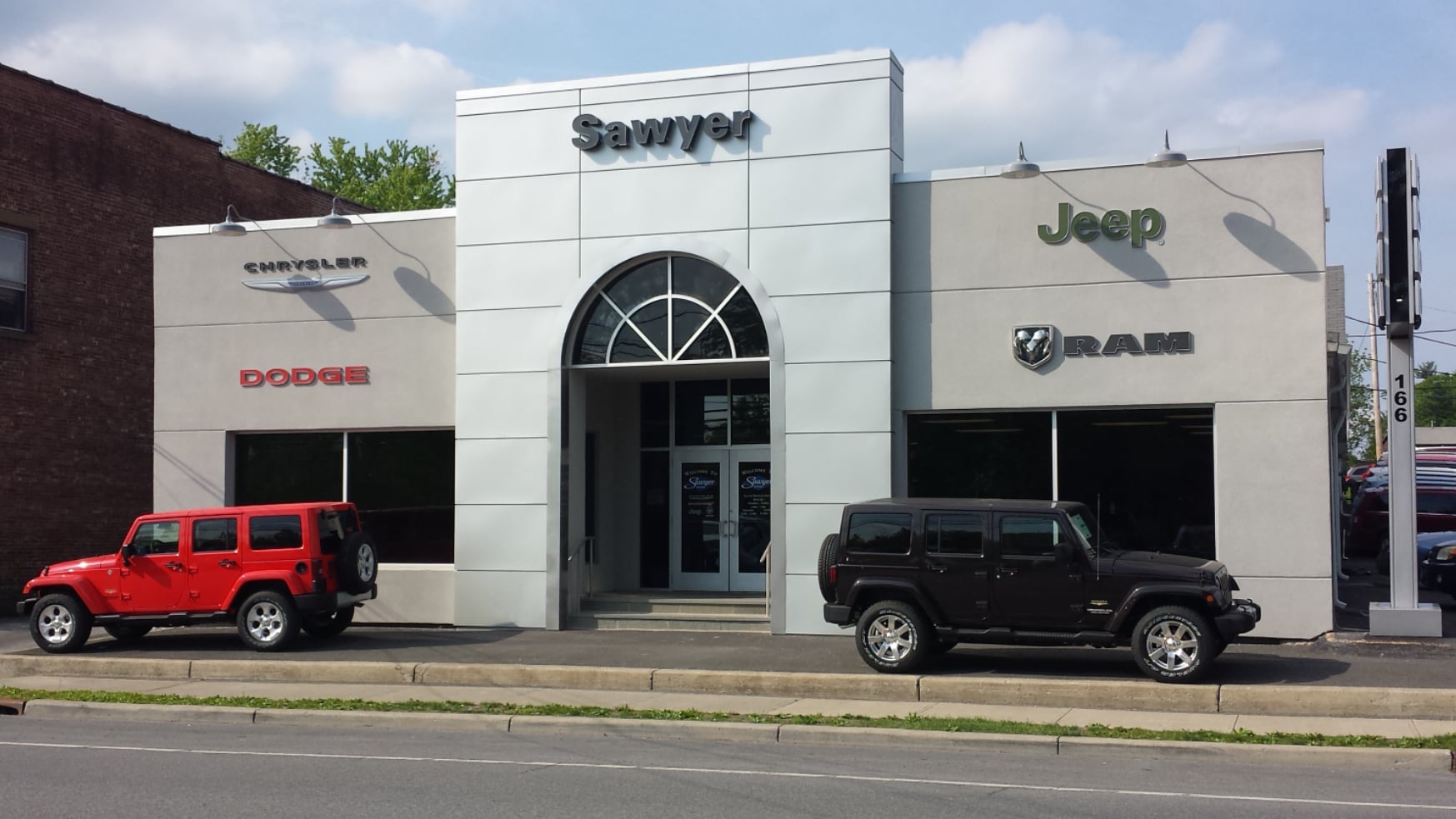 What is the "Sawyer Motors Experience"?
From the moment you walk into our showroom, you will realize that we're NOT your typical auto dealership. Our showroom is NOT one of those "bigger, better, State of the Art" showrooms in which you will wonder around feeling ignored and invisible! When you walk into OUR showroom, you are greeted by a collection of classic antiques and a warm smile from our friendly knowledgeable staff. Our focus at Sawyer Motors is taking care of YOUR needs. Whether that need happens to be a brand new Chrysler, Dodge, Ram, Jeep or one of our certified previously Loved vehicles, you can rest assured knowing that Sawyer Motors has you covered! Our sales department is comprised of knowledgeable and helpful salespeople that will assist you throughout your entire Sawyer Motors Experience! We will never leave you feeling ignored and at the same time, you will not have the feeling of being just a "sale" in a high pressure environment.
The feeling that you get when you walk into our dealership is different than most. We focus on building lasting relationships with our customers, turning them in many cases into our friends and repeat customers. We aren't trying to be a dealership for the masses, we are trying to be the dealership for YOU! Rather than trying to force our inventory on you, we try and find the vehicle that best suits YOUR needs. Sawyer Motors isn't about just selling cars, it's about connecting with our customers!
If it is a quick oil change or heavy repairs that you are in the need of, our service department will take care all of your maintenance needs! With our friendly and knowledgeable service experts, you can relax knowing that your vehicle is in the right hands!
Here at Sawyer Motors it is all about giving back to the community that supports our business. That is why every year we host events such as Holiday in the Village.
Whether you are from Saugerties, Kingston NY, Hudson NY, Manorville or Rhinebeck, we invite you to come in and see what we mean by the Sawyer Motors Expierence!
Remember: Smaller dealerships have LOTS to Love!